Wisbech Green in the Media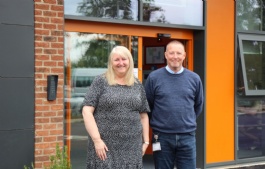 Riverside Meadows - Wisbech Green is in the media, with articles available on Cambs Times and Wisbech Standard.
Pictured: Kim Taylor OBE; CEO - Horizons Education Trust and Riverside Meadows - Wisbech Green Co-Head Teacher Christopher Carey.
NEW RIVERSIDE MEADOWS ACADEMY OPENS
The new Riverside Meadows Academy in Wisbech has opened – a school for students with social, emotional and mental health (SEMH) needs.
The academy – run by the Horizons Education Trust - can cater for up to 60 pupils and is part of the family of special schools opened in partnership with Cambridgeshire County Council.
Riverside Meadows Academy has sites in both St Neots and Wisbech, welcoming learners from Cambridgeshire and its neighbouring authorities.
Its key aim is to provide an educational and therapeutic package working closely with a range of professionals to meet the requirements of learners' Education, Health and Care Plans.
Headteacher Chris Carey welcomed students and their parents and guardians into the school - a positive experience as students move into a brand new building, "So many people have worked so hard to make this vision a reality, and the impact this school will have on families in the Cambridgeshire area is immeasurable. The demand for places at Riverside Meadows - Wisbech Green has been phenomenal and we are really excited for the opportunities we can provide our pupils."
Horizons Education Trust thanked Cambridgeshire County Council for its investment and support for our SEMH pupils and Keir Construction and Cambridgeshire County Council for their delivery of such amazing facilities for the Wisbech area.
Horizons Education Trust CEO Dr Kim Taylor OBE said: "It is fantastic that this investment has been made for the Wisbech area and we now have this amazing new building for Cambridgeshire. It demonstrates the respect for young people with SEMH within the community."
Cllr Bryony Goodliffe, Chair of Cambridgeshire County Council's Children and Young People's Committee added: "I am delighted that the local authority has been able to play such a significant part in this outstanding new facility. It will serve pupils with SEMH needs in Cambridgeshire and beyond for many years to come."