Design a Logo Competition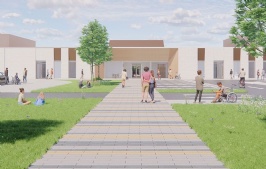 Can you help us design a logo for our new school?
Horizons Education Trust invites Community Members to design a new school logo on behalf of our new special school - Prestley Wood Academy.
The Trust is inviting all members of the community, including students, parents, teachers, alumni and residents of the local area to participate in the competition.

"We are thrilled to invite our community to participate in this exciting initiative. We believe that the new school logo will help us to forge a unique identity for the new special school at Alconbury Weald, showcase our commitment to learning at an ECO School and celebrate the future for families with children who have special education needs and disabilities." Horizons Education Trust CEO, Kim Taylor.

Prestley Wood Academy Special Educational Needs School will sit at the heart of a new development in the new Alconbury Weald Education Campus. As a 150-place special free school by presumption with Cambridgeshire County Council, Prestley Wood Academy will form part of Horizons Education Trust alongside Spring Common Academy and Riverside Meadows Academy. This school will serve children and young people aged 3 to 19 with complex special educational needs living in Alconbury Weald and the surrounding area.

"The new logo should honour the local area in which it is being constructed and link to our Trust values. In line with our other schools, and the name Prestley Wood itself, we keenly feel that Nature should be the theme around which the new logo will be designed." Horizons Education Trust CEO, Kim Taylor.

The competition is open to all individuals who wish to participate, regardless of their age. The winning design will be selected by a panel of judges comprised of school administrators, teaching staff and community members. The winner will receive a gift voucher and recognition for their contribution.

To participate, interested individuals should submit their design to Amy Spittle, aspittle@horizons.org.uk for collation on behalf of our judging panel by Thursday 30th March, 2023.
Designs can be submitted in any format including digital images or hand drawn sketches and artwork
Participants are encouraged to include a short description of their design and its significance
We request that participants limit their design to up to 3 colours
Individuals are not limited to the number of applications