Riverside Meadows - St Neots; Half Term Update, October 2023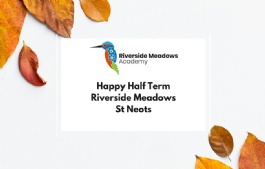 As we come to the end of the half term, we reflect on how far Riverside Meadows has come over the last year.
The students are far more settled, relationships have been restored and a positive learning environment is now in place. Moving forwards, we are looking at redesigning our therapy room with the help of a local charity, our therapy offer is increasing hugely and the range of learning opportunities our students have outside the classroom is also growing. Overall, it is a good time to be a student at Riverside Meadows - St Neots, and we couldn't do it without the support of our staff and parents, so thank you all.
Just picking out a few of the key dates for next term, we return on 31st October, Halloween (costumes optional), followed closely by Remembrance week, where we will be exploring what happened in all conflicts across the world and all the different parties we remember, that were involved, not just the soldiers.

Monday 13th November sees the start of Anti-bullying week followed by Road Safety Week, with awareness and activities taking place throughout the week for students.
Thursday 19th November is our termly Parent Group Meeting. Online session will be 3-4pm, with face-to-face sessions 4-6pm. Please feel free to come along for cake and coffee and on open opportunity to speak to the Senior Leadership Team.
Enjoy the week's break.
Mr Andrew Armstrong