Cambridgeshire Beat Team Work With Riverside Meadows - St Neots to Educate, Discuss and Support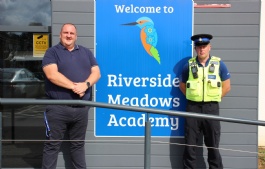 Riverside Meadows - St Neots once again looks forward to working with PCSO Dan Grant and his Cambridgeshire Beat Team as they come into school and work with our young people on a wide range of topics, demonstrating that the police are a supportive team with the best interests of young people at heart.
As part of our PSHE programme at Riverside Meadows we will be discussing the role of the police in local and national communities, exploring the legalities of using social media, sexting, learning more about drug misuse and how to stay safe with road safety awareness.
Dan and his team will be helping with the delivery of some of these topical discussions and providing their expert knowledge to the staff team.
It is always a pleasure to have Dan and his Team on site, and it is evident what a positive response the Team brings from our pupils, taking the time to get to know them as individuals and offering insight on a wealth of topics.