Make Our School Beautiful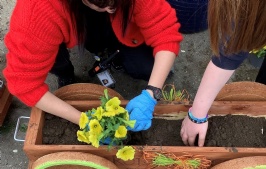 As part of our 'Earth Day' themed learning, our students made these amazing train planters from recycled materials.
When a local factory kindly donated some wooden trays to the school, our students chose to use them in a project to improve the school environment. Named, "Make our school beautiful - Reduce+Reuse+Recycle", the wooden trays were used creatively to build a fun, flower train planter to brighten up the outside areas of school.
The project involved some building, painting and planting which all our students really enjoyed getting involved with. Click here to view more photos in the Community Planting Project gallery.